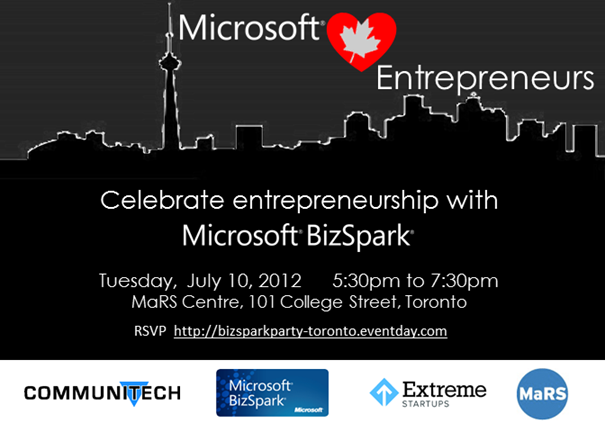 Did you know that 15,000 global players in the Microsoft ecosystem are descending on Toronto in July? Microsoft Worldwide Partner Conference (WPC) is happening July 8-12, 2012 at the ACC and the MTCC. That's a lot of people building on the stack. The BizSpark One program was one that I championed during my time at the Microsoft, and there are a lot of Canadian companies that are building on the Microsoft stack:
Mark Relph (LinkedIn, @mrelph) and the Redmond and Silicon Valley crews will be in Toronto. Mark used to be my boss at Microsoft Canada, and has subsequently caught the startup bug. He's helping startups through BizSpark and BizSpark One programs. Along with the folks from a far, Christian Beauclair (LinkedIn, @cbeauclair) and Shane Davies (LinkedIn) will also be around to support Canadian startups.
And whether you love or hate the Microsoft stack, they are trying to move to greater independence to enable developers. Microsoft is looking for ways to help startups, BizSpark, Azure and other programs like Kinect Accelerator make it easier to understand why.
Why not join WPC attendees and other startups on July 10 at MaRS?