Waterloo shining star startup, Bufferbox, just announced that it was acquired by Google today for an undisclosed sum. Whaaaa?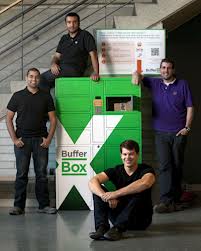 Bufferbox is a Waterloo startup that builds locker-like boxes that enable consumers to mail their ecommerce orders to a convenient location where they can pick them up without having to worry about missed deliveries. Recently Amazon announced a similar service just for Amazon orders in the US, and similar ideas have taken off in Europe.
The growth of Bufferbox under the leadership of Mike "Matt Damon" McCauley, Aditya Bali, Jay Shah quickly became an example of how to "do startup" in Canada.
Bufferbox only started up in 2011 and won the Waterloo VeloCity Venture Fund in February 2012. They were prominent favourites of Paul Graham when they went through the YCombinator program in Silicon Valley. Bufferbox currently occupies a chunk of space in the VelocityGarage inside the Communitech Hub.
I remember when Mike and the rest of the team first stated they were building a startup around bulky hardware that wasn't easily patentable, people said that they were crazy. Bufferbox started in an incubator surrounded by teams trying to make the next trendy social/mobile app – they stood out for wanting to do something physical and different (and a little bit crazy).
Mike was properly introduced to me just before Christmas in 2011. The person who introduced me basically said "This kid is trying to build something that is too audacious to ever really take off, but he's a nice guy so you should give him advice." In early 2012, the Canadian startup community reacted in a similar way: by all accounts, Bufferbox was in for a really difficult ride getting their idea funded so they could build and deploy more expensive boxes. People said that it was too hard to build a hardware startup these days. More than one person told them to give up.
But they didn't.
Greatness is defined by how entrepreneurs act in the face of challenge, and this team reacted by working twice as hard and always smiling and being charming the whole way through. This attitude made them darlings of the YC Program which, rumor has it, they applied to last minute on a whim.
If you are to learn anything from the story of Bufferbox it is:
Never give up, and keep smiling
The first response to all audacious ideas is: "this is too crazy to work"
Harness the power of Silicon Valley while building in Canada (aka – get into YC)
Only the craziest, boldest ideas are rewarded with crazy, bold success
Always look like Matt Damon
Bufferbox's story, like the other Waterloo (not-yet-acquired) startup darling, VidYard, demonstrates what's going right in Waterloo and Canada in general. Bufferbox made use of Velocity and the VelocityGarage combined with Communitech's mentoring power to successfully seed their company built on the engineering talent from the University of Waterloo. Silicon Valley noticed. Montreal VC, iNovia, swooped in to invest early. When Amazon launched a comparable product in the US, Bufferbox used that announcement to build more excitement around the category – alternate ecommerce delivery models went from cool to hot in a matter of months. All the pieces lined up. In the end, the Bufferbox team demonstrated what happens when awesome, charming entrepreneur engineers work hard in a hot space.
Even though the size of the deal was undisclosed, from the stories overheard in the halls of Communitech, there was massive competition from literally the best names in Silicon Valley to get Bufferbox and so we have an inkling that the Bufferbox team did very well for themselves in this deal. With that in mind, Mike McCauley needs your help in the comments below with suggestions for sports cars he should buy to replace the BufferBenz.