Editor's Note: This is a guest post from Rick Stomphorst Follow @stompr who is a co-founder of Silicon Halton Follow @SiliconHalton. Halton Region is in the West end, it includes Burlington, Oakville, and Milton.Population is >500,000 people. I would have called it a bedroom community, but there is a strong set of tech companies like Ivara and Awareness Inc. We focus on Toronto, Waterloo, Montreal, Vancouver and Halifax but there are strong communities around Canada that have emerging tech startup communities.

Five years ago the state of the tech community in Halton was "virtually non-existent". Polite conversations about tech startups would have met by shoulder shrugs, glossy eyes and guessimates of the number of startups in the low single digits (if not zero itself).
Asking those same questions today, and you'll get a wildly different answer.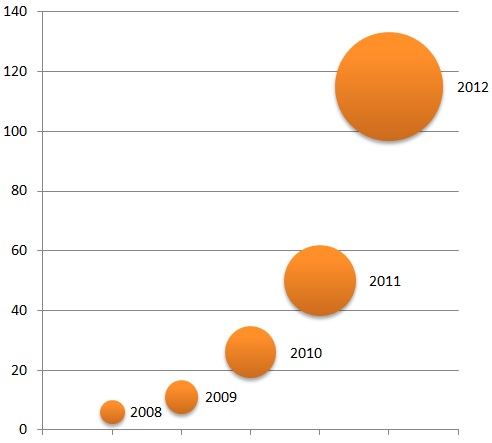 We have been committed to connecting high-tech entrepreneurs, companies and enthusiast. Two major vehicles for connecting the community are Silicon Halton (full disclosure: I am a cofounder of Silicon Halton) and HalTech. Silicon Halton was launched in 2009 by 2 people with 2 events. In 2012, it has grown to almost 800 members and 80 events. Silicon Halton is a grassroots hi-tech community of people who make a living, make meaning, and make things happen in technology in Halton Region. HalTech is an Ontario Network of Excellence Regional Innovation Centre providing education, advisory services and industry-academia collaboration programs and hosted an additional 35 events for entrepreneurs in 2012.
The primary focus of the events been education, building local connections and increasing exposure to local companies. At the Silicon Halton's monthly meetups, one activity is to "get to know your members" where two entrepreneurs introduce their company. These two intros per month have translated into 24 tech companies connections per year enabling collaboration, shared resources, recruiting and other local opportunities. Additional events have been added to the calendar including DemoNights and PitchNight. Feedback from participants it that the ability to connect with other entrepreneurs and professionals has helped accelerate local companies and local ecosystem. Other Halton region events include contests like Pythons Pit.
The early stage nature of the community has included a focus on shared resources and co-working. The goal being to help connect early stage companies to the broader ecosystem and reduce the risks often associated with commercial leases and real estate during the initial startup phases. The discussion around co-working spaces including 2 at concept stage and a member created app, SpaceSurfers, for finding and sharing workspaces.
Halton has a strong educational resource with  "the Harvard of animation schools"[1], Sheridan College, in Oakville. Sheridan has a strong history of great applied research in digital media, health and advanced manufacturing. It's a great local talent pool that is easy for entrepreneurs to access through events like BIZTECH Career Fair or through campus the job posting service. [Ed. – I'm intrigues by the Bachelor of Interaction Design and the Bachelor of Game Design in providing students with design oriented skills].
Incomplete List of Halton Tech Companies & Startups
Halton companies and entrepreneurs have easy access to the activities in Peel (RIC Centre) and Hamilton (Innovation Factory & Software Hamilton) regions.
If you are in Halton Region consider joining Silicon Halton and get connected to other locals interested in high growth, high tech companies. Silicon Halton provides a platform for Halton tech companies and to enable a stronger ICT and Digital Media cluster in Halton Region.
Footnotes