I think Jevon and Jonas and Karthik are getting sick of running events with me. Before StartupEmpire back in 2008, I ended up in the Emergency Room at Toronto General for another look at my ticker. This week I ended up in the Emergency Room at Toronto General as we are planning Founders & Funders. I'm ok, I was both times but it does complicate the event planning and invitation process.
"Gentlemen, we can rebuild him. We have the technology. We have the capability to make the world's first bionic man. Steve Austin will be that man. Better than he was before. Better…stronger…faster." Wikipedia
So if you feel like you only got your invitation very recently, i.e., today. It's my fault, I am sorry, I have been out of commission. It's a reminder that you should do a startup before you need a body replacement.

Here is the update on Founders & Funders. It has been almost 2 years since we ran the last Founders & Funders (thanks for noticing William ;-). We are 7 days from the event and we have 35 remaining spots. Unlike past events, we are over inviting and over selling the event, i.e., first come first served. So if you got an invite but were waiting that might be a bad plan…
232 Invites sent
65 Tickets sold
35 Tickets remaining
Target 70% Founders (Currently: 66% founders)
How to get an invitation?
"Fortune favors the connected entrepreneur." @jcal7 #trueuniversity via @hnshah
We're looking for "interesting" founders. Often this means people that we've met at other events, as Founders & Funders are relatively small social gatherings. That doesn't mean it is just our friends, as I've been often accused. But it is entrepreneurs that we've met, that are building interesting companies, that have interesting traction. Get someone that we think is awesome to refer you. It's a social hack (just like me).
Connect with other founders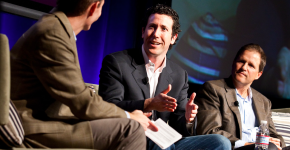 We have also decided to include a brief fireside chat with Daniel Debow at this dinner. We rarely do this sort of thing at a Founders and Funders but 2011 was such a great year we thought it would be fun to look back on the ups and downs of Rypple through the years and how they got to their eventual exit, some of which was written about in Forbes this week.
What's the point?
Jonas, Jevon and I are founders. We are not an event company. We are not a media company. We have been trying to write content on StartupNorth that is relevant to us as founders. Whether we are raising money, connecting with other where we live, finding talent, or growing a business. We generally charge very close to the cost of the ticket, i.e., there are some slight over head costs but we are not collecting salaries or generating revenues. This is an unfortunate hobby. But I know there are world-class founders and companies across Canada and while there are government supported organizations and purported lobby groups, we are just a bunch of founders trying to do the things that we find useful in building our companies.
Founders & Funders is a social event. It is designed to connect with the people writing cheques and making investments on a social level. To talk about startups and technologies and business models without the constraints of a pitch. Will there be pitches, definitely (How do you know when an entrepreneur is dead? They stop pitching). The goal is to have a highly edited dinner party with "interesting founders" and get them out of their usual pitch oriented conversation with VCs.
Whether this works or not is questionable, but it does bring together founders and funders in a social context.